Private Kekova boat hire starts from the kaş harbour 10:00 am. This boat tour is private for you and just your friends. You will rent the boat with stuff and we sail to kekova route.We stop calm bays and have delicious meals and spend a peaceful day on the water as you take in the region's ancient history while cruising between the mainland of Turkey and the islands atolls, bays. Our boat stop inönü bay located between Kaş and Kekova island, stop to swim 45 minutes. Another bay which is located between Kaş and Kekova is Çoban bay and stop to swim 45 minutes. If you choose Kaş departure boat tour to Kekova you will explore bays between Kaş and Kekova region besides Kekova bays.  Later we sail to Kekova island.
Private Kas Kekova boat hire is the most popular tour in Kas.
Lunch is on the boat and 5 diffrent Turkish mezes also chicken or fish barbacue
Why Should Kekova Boat Hire in Kas
Kekova region is one of the most beautiful spots on Mediterranean. You will have an opportinuty to visit the tiny village of Kaleköy (SİMENA) and to swim in lovely bays of turquoise water. See  the sunken city that was destroyed by a series of earthquakes at the turn of the first millennium. As this is an archeologically protected area, no swimming is permitted, however we will be stopping at Tersane Bay where there  is plenty of opportunity to view more sunken ruins whilst swimming and snorkeling. Then we turn back back throught Kaş by sail.
NOTE: PRICE MEANS TO TOTAL PRICE FOR MAX 8 PEOPLE
Your Chance to:
Savour a fresh Mediterranean lunch on the water
Swim and snorkel in the clear blue waters of the Turquoise Coast
Visit the protected places Sunkencity, Simena (castle vllage)
Numerous swimming and snorkeling breaks
Suitable for all ages
Remember bring:
Swimsuit and towel
Sun protection, sun hat and sunglasses
Camera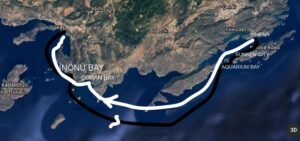 For more info ,please check our blog page
INCLUDED:
ALL DAY BOAT WITH STUFF
LUNCH
| Date | 0-6 Age | Service Price |
| --- | --- | --- |
| 01 April 2023 - 30June 2023 ( Up to 6 Persons) | Free | 650.00 |
| 01 Apr 2022 - 30 Jun 2022 ( Up to 10 Persons) | Free | 680.00 |
| 01 July 2023 - 30 Sep 2023 (Up to 6 Persons) | Free | 720.00 |
| 01 July 2023 - 30 Sep 2023 ( Up to 10 Persons) | Free | 750.00 |
| 01 Oct 2022 - 30 Nov 2022 ( up to 10 persons) | Free | 650.00 |